Good morning historians of East Asia!
In response to many students' observation that they find it hard to work from home, remain motivated, and stick to a schedule, I offer a link to a google doc compiled for students at CUNY. Know that you are not alone! It's normal to feel out of sorts when you've not had a chance to prepare mentally for the massive changes in your normal routine. I suggest you also have a look at the Hastac post in which that document was embedded. I think you'll find the tips in here useful. Please reach out to me, or to the Academic Resource Center (scroll down to Academic Support), if you feel that's not enough.
Up and down the globe, teachers are finding ways to connect with students and make learning still happening. My hope is that you still feel connected to the community of fellow learners we had created in the first eight weeks of our courses at Muhlenberg. And I am very excited about the project pitches I've seen from HST107 and HST259!
Below the illustration of the Japanese story of the "Mansion of the Dishes", you'll find today's schedule for your course.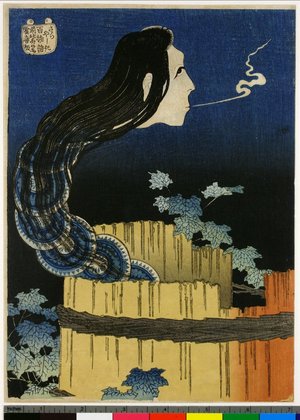 Drop-in tutorials open to all: 11am to 12pm. Link to Zoom is under the green header on the Canvas home page of your course.
HST107: Zoom zoom! (link on Canvas home page under the pink header) We meet at 4pm to deepen our discussion on foxes- thanks for the great work on the Canvas discussion board already! Send in your preliminary list of sources for your project by midnight as a google doc (step 2 in the bite-by-bite guide)
HST259: Responses on Canvas to two students' posts by midnight, but I encourage you to carry on the discussion beyond the required minimum (and beyond the deadline). Start thinking about your preliminary list of sources for the project, which will be due by Friday night.
HST267: Zoom zoom! (link on Canvas home page under the pink header) We meet at 1pm to share more insights in arts from the late Muromachi period, based on the Canvas discussions.